July 2005
Thanks from eight!

Hey Ya'll,
Well it's been a fortnight since our last ever eight show at The Studio in Auckland. . .
and we just wanted to say Thanks! We couldn't have asked for a better way to sign off as a band, what an amazing night to top off an amazing tour!
It was a packed house and there was such a great vibe from the crowd, all determined to make the most of the last show. We gave it heaps on stage as we have with all our final tour shows, and had a blinder, it was definitely a great way to finish. (check out the photos . . .)
We hadn't performed live as a band for over 9 months before the final eight tour, so were absolutely blown away by the response to all the shows. Thanks again to everyone who came out, we're so stoked that we were able to share our music with you one last time.
We also had a great response to the release of our new demo archives CD 'Unfinished', and the re-release of 'Build'. Both these CD's, 'Moving' and the 'Shift' EP are still available to buy online and only 5 'enought about eight' tshirts are left so get in fast . If you're stuck for getting online or don't have a credit card, you can also email us at email us at merchandise@eight.co.nz with and we'll holler back with details of how you can get them via internet banking/mail order/cheque. Credit Cards can buy through amplifier.co.nz.
As we've said before, eight has been an important part of our lives, we've had a great as a band, and are extremely grateful for our fans and the support our music has received over the years.
Thanks for sharing the love. That's us
Paul, Bruce, Alastair, Hamish, and Chris - eight
June 22 2005
eight – The Last two Shows EVER this Week!

Hey Ya'll,

The end has begun and the South Island was true to form as always with last week's Final Dunedin and Christchurch Shows!

Thank you so much to everyone who came to the shows at the Arc and the Jetset. It's a strange thing trying to anticipate the feeling of your last gigs, but there was a great vibe among the crowd, we had a fantastic time, and there was huge sense of making the most of it being the last shows.

It was great talking with people and hearing how they've enjoyed our sound and how eight's music has really meant something to them over the years. That's always been the point for us and it's nice as a band to finish with that sort of feedback, so cheers and thanks again for all your support!

We're really looking forward to these last two shows this week so if you're anywhere near Wellington or Auckland we'd love for you to come and hang out:

Full details as Follows:
This Thursday June 23rd @ Valve, Wellington
now with special guests 'Seven Sons' (formerly Stylus 77) as well as acoustic solo performances from Chris, Alastair, and Bruce.
'Seven Sons' set a great vibe with their music and are a perfect addition to the show, so get their early to catch these guys perform.
Doors open at 9pm

This Friday June 24th @ The Studio, Auckland – The VERY LAST eight show EVER
with support from Chris Cope and full band, as well as acoustic solo performances from Alastair and Bruce.
Doors open at 9pm

Tickets from redtickets at your local postshop or online at www.redtickets.co.nz Limited doorsales on the night (where available).

We've already had a great response to our new CD release 'Unfinished', and the re-release of our 1999 demo album 'Build' with a huge amount of CD's sold at last week's show, so get in fast! Both these CD's will be available on the night at this week's shows for a reduced cash price so if you're keen, make sure you bring some extra pocket money. 'Unfinished' - $20, 'Build' - $25 (cash sales only – no eftpos)

Once again, we've had a great time as a band and we're incredibly grateful for the opportunity to have shared our music with you. Next week is going to be a bit surreal but for THIS week, we are still eight and we're going to make the most of it!

Cheers,

Paul, Alastair, Bruce, Hamish, and Chris
June 2005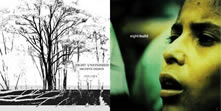 eight - Final Tour and New CD releases!

Hey Ya'll,

This is it! The Final Eight Tour starts THIS week in Dunedin and Christchurch, so if you're in the neighborhood or within a days drive radius (basically, if you're on the mainland), get your tickets, and your friends, and your friends friends, and come to the last EVER South Island shows.

We're really looking forward to these final gigs, we'll be playing the full show plus a couple of tunes we haven't done in a while, and also ironically a brand new one that we wrote earlier this year (It'll be the first and last time you'll ever hear it!) Make sure you get there early to catch live acoustic solo performances from Chris Cope, Alastair Rogers, and Bruce Conlon. The band Hooster have also kindly agreed to kick off the show at the Jetset in ChCh which will be great.

Show details for this week as follows:
Thursday 16th June @ Arc Cafe, Dunedin
Friday 17th June @ The Jetset Lounge, Christchurch with special guests Hooster

Tickets from redtickets at your local postshop or online at www.redtickets.co.nz Limited doorsales on the night (where available).

Next week we head to Wellington @ Valve Bar on Thursday 23rd and then play our very last eight show ever at The Studio in Auckland on Friday June 24th.
We've had a number of emails and enquiries from fans outside of the four main centres and we do apologise we couldn't do a more extensive list of shows for the Final Tour. If there's anyway you can make it, just do it anyway as we'd love to see you there. Invercargill, Timaru, Palmy and Hamilton in particular are practically just over the fence so don't let a few km's stop you . . . it's nothing that some energy drinks and good company on the road can't overcome! If you are planning on coming in from out of town though don't forget your tickets in advance!

Now, some big news to add: At the Final Tour shows we'll be releasing two CD's! The first is a limited re-release of our first 1998 demo album 'Build'. This CD sold out after it's initial press and we've had loads of enquires for it ever since. The second CD is called 'Unfinished' and is an exclusive collection of demo archives from 2000 – 2004. It contains thirteen tracks including a number of songs you've probably never heard us play. Both of these CDs will be available online at our website in the near future but if you purchase them at the final shows you'll get $5 off each disk! (cash sales only so bring your pocket money...)

That's us for now, see you soon.

Paul, Alastair, Bruce, Hamish, and Chris – in no particular order – eight
May 2005
eight: 1996 – 2005 . . . The Final Tour!

Hey Y'all,
After an extended break, and time both to reflect and to explore new musical directions and solo projects, eight have decided to call it a day as a band.
This has been a collective decision for us which has taken shape over the last few months. eight has been an important and rewarding part of our lives with some amazing times spent writing and performing together, and we are extremely grateful for the opportunities we've had to share our music over the last nine years.
Thank-you to everyone who has supported us, played our songs, brought the albums, and come to our shows. Your encouragement, enthusiasm and energy has been a huge inspiration.
Our album 'Moving' has also just reached Gold status in NZ which is a great note to end on!
Unfortunately there's no juicy Rock n Roll mis-adventure, 'creative differences' or 'Yoko-Ono' story to tell. We've had a great time as a band, we're still very much inspired to make music, and are looking forward to supporting each other as we explore some new directions.
We do however want to have one last chance to hit the road together (just wouldn't be right if we didn't) and have organised our last ever eight shows in just a few weeks! The dates and venues are as follows:
Thursday June 16th @ The Arc Cafe, Dunedin
Friday June 17th @ The Jet Set, Christchurch
Thursday June 23rd @ Valve Bar, Wellington
Friday June 24th @ The Studio, Auckland
Tickets go on sale this coming Friday May 17th and are available from Red Tickets at your local postshop or online from www.redtickets.co.nz
For venue details, door times, and ticket prices, check out the live guide at live guide
In a surreal twist, and as a hint of what we mean by 'new directions', the shows will be opened with acoustic solo performances from Bruce Conlon, Alastair Rogers, and Chris Cope! Chris will also be performing with eight for these final shows.
We want to go out guns blazing and would love it if you would come and hang with us one last time, so spread the word, tell everyone you ever knew, get your crew together, get your tickets, and we'll see you soon!
Thanks for listening . . . . we'll miss you
Paul, Bruce, Alastair, Hamish, and Chris – in no particular order – eight

February 2005
This Update: Fall Apart Remix, Rock 'n roll OE, New Songs...

Hey Ya'll,

A belated greetings for 2005, hope the year is treating you well so far, they can be sneaky so watch yourself . . .

Here's a quick update to let you know what's happening with eight:

Cheers for the feedback firstly on the recent 'Fall Apart' Remix, we've had loads of emails about the video as well, we're glad you like it!

Our summer hiatus is set to continue a little longer as Hamish is currently jet-setting around the world as 'half-time oranges guy' with Steriogram until April!
It's like an O.E, but rock n roll style and he's traveling through Japan, England, and Europe helping out with the band. On arrival in Tokyo last week, he went to a Mars Volta show, which is a pretty good way to start a world tour!

Suffice to say, it does mean that eight won't be doing any shows until he gets back in April.

Eight is also back to being a four piece again as we had to say goodbye to Eli at the end of last year. Eli was a huge help to the band as a second guitarist throughout 2004, and we wish him all the best for the future!

It's been great to get back into writing again, and there's a lot of new material coming together which we're excited about. The break over summer has been a great one, it's always good to step back and get a fresh perspective on what you're doing, and we're looking forward to bringing you some brand new songs in the next few months . . .

Watch this space, we'll be back soon.


Paul, Bruce, Alastair, and Hamish – in no particular order– eight
Christmas 2004
This Update: Brand New U.S Remix of Fall Apart out Now, 2004 revisited, and Summer Greetings all round!

Hey Y'all,

First things first, Merry Christmas one and all! From all the eight lads we hope you have a great Jesus birthday, with plenty of food and good times with whanau and friends.

2004 has been a great year for eight, with the release of our debut album 'Moving' in March. We've had some memorable road trips and performances; the album release tour, Incubus supports, and the winter tour, a lot of miles covered and plenty of good times had by all. Thanks again to everyone who came out to the shows, requested the singles and videos, and as always for keeping in touch via email. 'Moving' was a long time in the making and it's definitely felt good to finally have a full length album out there. Your feedback has been much appreciated, and as a band it's hugely encouraging to see that our music is being received positively, so thanks heaps for your thoughts.

The new video for 'Fall Apart' has been out now for a few weeks, and the brand new remixed single has just gone to radio with the latest NZ on Air 'hit disc', so keep an ear out for it over the new year! Your requests definitely play a part in encouraging airplay so feel free to bombard your favorite radio station over the summer break, and let's see if we can make Fall Apart a summer hit for 2005!

The new radio version of 'Fall Apart' was remixed in L.A by the Beat Detectives, who have worked with artists such as Beck, Linkin Park, Smashing Pumkins, Usher, Notorious B.I.G and more. It was a great experience working with these guys, and they've definitely put their own spin on the track which we're really happy with. The remix is available for purchased download for $1.99 from Amplifier.
Crazy thing is we currently have four singles in the rock charts Top Ten on amplifier.co.nz; Whale, Moments Gone, Shift, and the new Fall Apart!

We'd love to get your feedback on the new remix also, so check it out and drop us an email with your thoughts mail@eight.co.nz

An interesting piece of eight rock trivia is that you may notice Paul (drummer) is absent from the new Fall Apart video. This is due to the fact that his wife was giving birth to their first child on the day of the shoot, how's the timing! (it was ironically also NZ's 'Labour Weekend' holiday) Obviously new fatherhood provided a fair excuse for missing the video shoot, and Paul's little girl Zoë Nova Russell is doing great and will be celebrating her first Christmas at 2 months old!

With all that's been going on, we've decided to lay low over summer, and take a break before kicking into 2005. eight won't be performing over the Christmas/New Year period, but keep an eye out on the live guide online for details of shows around February/March in the new year. We've been writing some new tunes over the last month which we're really excited about and can't wait for you to hear them . . . .

Finally, as you know eight's guitarist Chris Cope left eight earlier this year to start work on his own solo material. Well to give you an update, he had his first show at the Odeon lounge in Auckland last week which was a huge success. There was a great turn out and we all felt rather proud watching him take the centre stage for the first time. His band and his songs are sounding great, so keep your eyes and ears open for Chris Cope in 2005, congratulations bro!

And that's us for now. Righto then, have yourselves a merry little Christmas, don't forget to get those requests going for the Fall Apart remix, and feel free to add a copy of 'Moving' to all your christmas stockings this year . . .

Much love from all the eight boys, keep safe, see you in 2005!

Paul, Alastair, Bruce, and Hamish – santas little helpers
September 2004
Hey Ya'll,

Well we couldn't have asked for a better way to end the Winter Tour. Our final show at The Studio in Auckland was sold out, with around 800 people through the doors, including family, friends and invited industry guests. It was a great night and a fine ending to a successful tour! Check the photos...

The North Island definitely represented, so thanks heaps to everyone who came out to the shows. We've had the pleasure of meeting a whole lot of new people, and certainly some 'interesting' characters along the way. Cheers too for all the positive feedback over the last month, it sounds like a great time was had by all!

So what's coming up for eight then (apart from catching up on weeks of lost sleep, washing, household chores, bills, 9 – 5 work . . . wicked!)

This coming Friday, September 10th we are headlining 'Rapid 2004' in Upper Hutt, a Youth Concert put on by the city council. The event has run for the past few years, featuring bands such as Goldenhorse, Betchadupa, Elemenope, and this year it's eight's turn.

The venue for the show is the Expressions Arts and Entertainment Centre in Upper Hutt, and kicks off at 7:30pm with local talent Halva Eve and Slowdance performing also. (Listen to the ad)

Tickets are $15 and available from Expressions Arts and Entertainment Centre, Upper Hutt Information Centre & Sounds Upper Hutt

We will also be doing an instore signing at Sounds Upper Hutt at 4pm if you want to come and hang out, maybe win a pass to the show, or get something signed by the band.

We've had a lot of requests from the Wellington area for an all ages show, so this is your chance to get a crew together and come and see us live so don't miss out!

The following Friday, September 17th, we'll be recording a performance for Top of the Pops, to be screened on the Saturday night. If you're in Auckland, you can come down to the studio and be part of the audience for this, and the more the merrier so feel free to get your mates together and come on down (it's free). The Top of the Pop's studio is located in the basement of Sofrana House on the corner of Queen Street and Mayoral Drive, Auckland Central (behind the Queen's Head pub). Just turn up for 6pm sharp if you want to be part of the cheering squad!

In the pipeline for October/November is the release of our new radio single and video, so keep your eyes and ears open for that and when it hits, you can help us get it out there by requesting it on the radio and the telly.

and that's us for now. Cheers as always for the support and emails, it's always good to hear your thoughts so keen them coming.

Bruce, Paul, Alastair, Hamish, and Eli – in no particular order – eight
August 2004
Hey Ya'll,

This is it, the crescendo, the thriller twist/Scooby Doo ending, the final week of the little tour that just kept on giving!

Thanks so much to everyone who's come to the shows so far, we've had a great time, and we only have three shows left . . .

So this is a wee reminder: We double dare, nay, we 'physical challenge' any and all from Hamilton, Whakatane, Auckland, or anywhere within a days drive/flight of these areas, to get your tickets and come and hang out with us.
You can get tickets for you and 10 of your closest friends from www.redtickets.co.nz, from your local postshop or by phoning 0800 000 575.
Limited door sales available

Full details are on the website and Full Post Tour Report to come next week . . . . or the week after, once we've had a nap.

Look forward to seeing you on the road this week!

Paul, Alastair, Eli, Bruce and Hamish – music of champions - eight
July 2004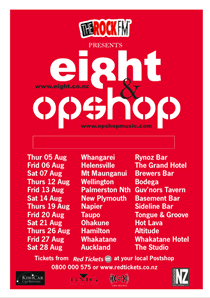 Hey Y'all,

In the immortal words of Bon Jovi "oh oh, we're halfway there, Oh! Oh! etc etc" (you know how it goes!)

The last two weeks off has been rather necessary as after two weeks and 13 shows in the south island with no days off, we've needed a wee break!

Firstly, a huge THANK YOU to everyone who came out to the shows in the mainland, we had such a good time with some very memorable gigs. It's an awesome feeling performing to crowds who are as excited about the music as we are (and who know all the words!) and that's what made the shows great, so cheers!

We got well looked after in Queenstown, and amongst the beautiful vistas and winterfest action we all went Canyon Swinging which was wicked. Its a cross between a bungy and a giant swing, and if you're in Queenstown you should definitely give it a go. Check out www.canyonswing.co.nz for details and check out the pics of us in action on the eight website. We'll have a bunch of tour pictures up for you shortly also.

Touring with the Opshop lads has been a lot of fun, they're a great band to perform with, and are a cheeky wee bunch too (so far they're one up on us with a well timed ambush egging of our campervan, but it's not over yet . . .)

The North Island leg of the tour kicks off next Thursday (5th August) in Whangarei @ Rynoz Bar, where Eli gets to represent in front of his home town for the first time which will be wicked. We have 12 shows still to go throughout August, ending with our grand finale at 'The Studio' in Auckland on Sat 28th.
(If you're in Auckland you can also come out to the Hellensville Grand Hotel show next Friday - Aug 6th).

The North Island dates are as follows. Check out the website for full details of the shows.
Tickets are available from Red Tickets at your local Postshop, or online at www.redtickets.co.nz
(Tip: They do have a service fee for tickets brought online or through their call centre but you are only charged for each booking whether it's 1 or 20 tickets so it's cheaper if you get all your mates together and buy your tickets in one hit!) Limited door sales may also available on the night.

Keep an ear out on The Rock or you local station for on the road interviews, and ticket giveaways.

The South Island represented big time, so the challenge is out there for the North Island! So get all your mates together, bring your mum, your cousins, your neighbors, complete strangers at the bus stop, we don't mind . . . . We've had our beauty sleep and it's time to get that late night's-no sleep-rock n roll complexion going on again, so get your tickets quick and we'll see you soon!

easy as pie.

Paul, Bruce, Eli, Hamish, and Al - eight
P.S: The 'road wound' award of the tour so far goes to Alastair who during a freak 'dish-washing' accident took a bite size chunk of man-flesh out of his thumb. . . congratulations tough guy.
June 2004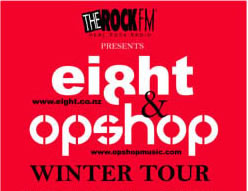 This update: The Tour Dates, The New Single, The New Video


Hey Y'all,

What to do when NZ Music Month is over and the entire Friends series is finished?

Well to ease the double whammy we've decided to embark on a full nationwide Winter Tour with our good friends Opshop!

Just like that, 24 shows nationwide kicking off at the Queenstown Winter Festival on June 29th (two weeks away!)

This is our most extensive tour yet with shows throughout July and August, from Invercargill to Whangarei!
Tickets are available online now from Red Tickets at your local Post Shop with limited door sales available on the night.

The dates are listed on the live guide. Listen out to The Rock for exclusive ticket giveaways and on the road interviews.

Opshop are a fantastic band and a great bunch of guys (their debut album "You are Here" is in the shops now if you don't have it already) Our two styles really compliment each other and should make for a unique live show. So ditch the hot water bottle for a night out with us, spread the word, gather up a crew, sort out a buddy system, whatever it takes to get amongst it and we'll see you there!

In other news the new revamped and remixed version of "Centre of Me" has just gone to radio and the new video has debuted on C4 and Juice TV. It's Eli's first ever music video appearance so you can put a face to the name if you haven't seen him already. We shot the video in Christchurch with director Richard Bell who also did the 'No Way to Decide' Video. It's a great looking clip with Bruce looking like a right rock star so keep an eye out, and as always if you want to hear it or see it, don't be shy about requesting it on your favorite station.

We'll keep this one short and leave you to check out the tour dates!

See you real soon . . .
Paul, Bruce, Hamish, Alastair, and Eli – eight
May 2004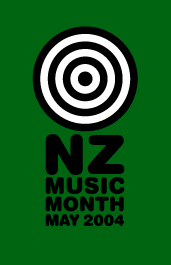 This Update: New Zealand music month, New guitarist, New single, New website, New t-shirts, New winter tour . . .
Hey Y'all,
There's a lot to cover in this one so I'll categorise it so we get it all covered.
Small Talk:
We're fine, how are you?
New Zealand Music Month:
Bruce helped kick things off in adventurous fashion by bungy jumping off the Auckland Harbour Bridge as part of the official launch. We also performed at the Radio Broadcasters Association Showcase, an awesome opportunity where only five acts are chosen to perform in front of radio programmers from around the country. It went really well so hopefully you'll be hearing more of eight on the radio. (Thanks again by the way for getting in touch with the stations and requesting our songs, that's what keeps them playing our music, or makes them sit up and take notice if we're not already on their playlist!).
Other things to look out for from eight this month include:
Juice TV Live @ Float – recorded Sat May 8, to be played on Juice TV later this month. Just text 'Sat' to 288, txt cost 99c… numbers are limited
ZM Live to Air – from 4pm Thursday May 13
Life FM Live to Air – from 4pm Tuesday May 11
The Rock will be giving away a free eight concert to a lucky winners place of work (lunch included)
The Rock are also hooking up an opportunity for a winner to come and hang out on the set of our upcoming video shoot for the new single later this month.
This is a great time to get out and celebrate local music so don't be shy. Our good friends from the band Op Shop have just released their debut album 'You are Here' which is a beautiful record and well worth getting your hands on.
New Guitarist:
Eli Murray, representing from Whangarei Northland. He's a great guy and he's put in some serious hard yards to be ready for music month (If I hear that Whale riff one more time . . .). His first show was in front of the primeminister, the record company and all the radio programmers in the country, no pressure aye! So he's already made the 6 o'clock news after one show and his second is to be broadcast on Juice TV (nerves of steel this guy, he's like a thunderbird or something). We'll try and find some snapshots to put on the website so you can check him out. Cheers heaps for all the emails wishing Chris all the best too, it's always nice to know you'll be missed, and keep an eye out for his solo stuff in the near future . . .
New Single:
'Centre of Me', due out early June has been reformatted and remixed especially for radio and sounds wicked! We're shooting the new video in Christchurch later this month and as mentioned you'll be able to win the chance to come and experience the making first hand, courtesy of the good folk at The Rock, tune in to the station for details.
New Website:
A whole new concept, very interactive - you can move things around, the site evolves and grows, very 'organic', definitely feels like eight. The new site will be online in the next few weeks so keep an eye out.
New T-Shirts:
The new design, courtesy of our good friend Sphere at Grimm Statistics productions is available through the website now, check them out. Grimm Statistics is an emerging local brand, wicked t-shirt designs and accessories available at select shops around the country – go kiwi made!
New Winter Tour:
Yes Yes Y'all, it's on! We'll be kicking off a full nationwide winter tour along with some 'yet to be named' special friends at the Queenstown Winter festival in July. We'll be spending a couple of weeks in the South Island, and will be touring the North Island throughout August. Full details to come but get ready, we expect you to know all the words (and the air guitar) when we come to your town!
and that's about us for now. As always feel free to share the love and drop us an email.
Good old New Zealand Music aye – get amongst it!
Paul, Bruce, Hamish, Alastair, and Eli – eight
April 2004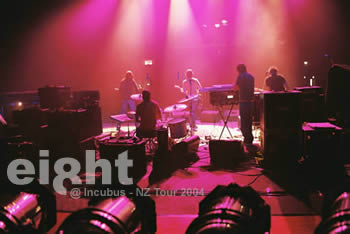 This Update: Some good news . . . and some sad news...
Hey Ya'll,
Firstly, big thanks to everyone who came out in force for the album release shows throughout March! We had such a great time on the road, and all of the shows went really well. It was awesome to be able to meet a lot of you and hear your thoughts on the album, and we're stoked to see that people are digging it, so cheers heaps!
The Incubus support was a nice surprise and a huge blast for us. We had a wicked time at both the Auckland and Wellington Shows and it was inspiring to see them in action again. We found out just before we played in Wellington on the Thursday night, and still had the Hamilton show to go on Saturday. This meant driving from Welly to Hamilton and playing the show, driving halfway back, sleeping a few hours, getting to Wellington for the Incubus show, and then jumping straight in the van and driving all the way back to Auckland overnight to get some of the guys back to work Monday morning! Some serious driving and lack of sleep but it was well worth it for a bit of big stage adventure. For the record, Incubus are a great bunch of guys, very down to earth, and we were fortunate enough to be able to have a few good chats before the shows. In Auckland half of the band was hanging out behind the drums watching our set which was wicked, and yes, we did flick them a copy of the album for the road.
We have a bunch of pictures from the Incubus shows and the album release shows on the website for you to check out.
We're very grateful that the last month has been so much fun for us and that we were able to play around the country a bit, because unfortunately, it was to be our last time performing with Chris Cope (yep, this is the sad news). Chris is an incredibly talented guy and has been wanting to work on his own solo material for a while now, and now that Moving is completed he'd really like to give his own music 100%. Chris has been a huge part of our journey as a band over the last few years, and we're very sad to lose him (especially as he's the best looking out of all of us!). It's not our decision but we respect Chris for pursuing his dreams and as his friends we're behind him and wish him every success. We've known for a little while now but we really wanted to see out the album launch and have Chris be a part of the album release tour as well. This last month has been a really cool time for us to be able to hang out and celebrate the work we've done together over the last few years.
We have been quietly working away over the last couple of months to find someone to fill the Chris shaped hole in our hearts, and can announce that the next month for us is to be spent rehearsing with a yet to be named new guitarist. Chris is helping bring our 'new guy' up to speed in all aspects of crazy pedal configurations and huge stage smiles so that we'll be ready to get amongst it again for NZ Music Month in May. It's a bit surreal I know, but we'll keep you in the loop as we get stuck into rehearsals over the coming month.
So there you go. We thought we should lay it all on the table for you so you hear it from us first, and we didn't want to just spring somebody new into the press shots and make like Chris had just been on extreme make-over or something. And hey, don't fret about missing ol 'Guy Smiley' on guitar too much, as we're sure he'll be in the headlines with his solo stuff in the very near future . . . aye Chris!!
that's us for now, except to say a big Cheers Chris! Love ya maaaate.
oh the memories. hugs all round.
Alastair, Bruce, Hamish, Paul - in order of best looking after Chris - eight
March 2004
This update: 'Moving' hits the charts, Answers to F.A.Questions, Release show tickets . . .
Hey Ya'll,
Firstly, cheers to all who rushed out and brought a copy of the album when it landed in stores last Monday. Thanks to your support 'Moving' has debuted at number 16 on the album charts! If you've brought a copy and like what you hear, feel free to help us spread the word and keep it in the charts.
If you're based overseas and want to get a copy of 'Moving', we've added a list of online stores on the website for you to check out if you haven't already.
Big thanks for all the feedback too, we've been getting loads of emails over the last week, it's always good to hear your thoughts on what we're doing, so don't be shy about letting us know what you think.
One question that's come through a few times is, 'what happened to Shift?' Here's the deal for all who have been wondering the same thing. Shift has already been released twice on cd, first back in 1998 on our demo album 'Build' and then as part of the four track single last year, which featured a longer remix version also. We really wanted to include a lot more of the new material on the album and so the decision was made to leave Shift off the tracklist in favour of including Whale and Moments Gone, both of which had not yet been released on cd. The four track 'Shift' cd is still available if you want to get a copy. We'll make sure we have a bunch at the upcoming release shows if you're keen.
A lot of requests for song lyrics have been coming through this week. This is being addressed, and Bruce is currently working on getting all the album song lyrics up on the website. They'll all be up there shortly.
We've also had a huge number of requests for tickets to the upcoming release shows, which is a bit of a learning curve for us as we've never pre-sold tickets for a show before. Thankfully we've got it sorted this week and pre-sale tickets are now available for all of the upcoming gigs. We've had to adjust the entry price to reflect the cost of the tickets and also to provide an incentive for getting your tickets early, so here's the new deal:
Pre-sale Tickets are $12, and door sales on the night are $15
(all except Dunedin for some reason, you guys get the hook up this time round – see below)
Here's where you need to go for tickets:
Auckland 18th March Real Groovy Records, Queen St
Christchurch 19th March Echo Records, High St, or Uni Mart @ UCSA on campus
Dunedin 20th March Echo Records, George St, or Arc Cafe ($10 – lucky you)
Wellington 25th March Real Groovy Records, Cuba St
Hamilton 27th March Tracs, Victoria St
The venues are all limited capacity, so get in quick to make sure you can come and hang out and celebrate the album with us. For full details of special guests, door times etc, check the live guide.
and that'll do nicely. see you soon.
Paul, Al, Bruce, Hamish, and Chris – eight
February 2004
The Debut Album!
Hey Ya'll,
This is it, by far the most exciting update we've had yet.
eight's full length debut album – 'Moving' hit's NZ stores nationwide on Monday March 1st!
They say that good things take time, and this album has taken over five years for us to finally deliver so by that theory should nothing short of fantastic!
We're pretty stoked to say the least, as we've been waiting just as long as you to finally get it out there and we can't wait for you to hear it.
It's a pretty good representation of the eight journey so far, and features some of the older tracks like 'Whale' and 'Moments Gone', as well as the new single 'No Way to Decide'. There's some brooding epics as well as some newer singles yet to be released, and even one song we've never played live before.
We've also included a CD Rom as part of the album, which has exclusive footage of the studio and the making of the album. So, pencil the 1st of March in your diaries, run out a buy a copy, and don't be shy about telling all your mates to get in there too! If you're overseas you'll be able to purchase it online through www.soundsnz.com, www.planetjack.com or www.marbecks.co.nz.
We've organised a bunch of album launch shows throughout March to celebrate the release and we'd love for you to come and hang out with us. We'll have more details (and possibly an extra show on Fri 26th) online soon, so keep an eye on the live guide and listen out on the radio over the coming weeks for ticket giveaways.
Thanks for all the feedback about the new single 'no way to decide too', it's been getting some great airplay on the radio and telly. You can still vote for it on C4 select by texting S440 to 8824 and request it on Juice TV. It's been climbing the charts on The Rock, and you can also get it up there on Channel Z by voting for it on the top twenty online.
And that'll do for now. we'll be in touch over the next couple of weeks with more debut album info.
Thanks for your patience and support. This album is for you, and we hope it's worth the wait. bring on March 1 . . .
Paul, Alastair, Bruce, Chris, and Hamish – eight
December 2003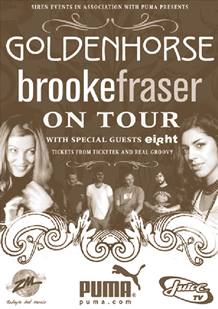 eight Christmas goodies . . . .
Kia Ora Y'all,
Man time flies. We started our debut album project in June this year and now Christmas is right around the corner. The good news is the album is finally finished! Bruce just returned from getting the album mastered in Sydney and we all had our very first listen to the final mix together.
It's quite a surreal experience to be caught up in something for so long and then to try and listen to it for the first time. Suffice to say, we couldn't be more stoked and it sounds wicked (of course I would say that). The proof of the pudding will be in February '04 when you all get to hear it for the first time too. It's a really honest representation of the journey of the band to this point and we can't wait to see what you think . . . roll on Feb.

Hopefully you've heard the new single "No Way To Decide" by now. Channel Z and The Rock have both got behind it this week (cheers for all the phone calls and email requests, they definitely work!) The new video premiered on C4 last week and the good folks at Juice TV have been supportive as always, so tune in and request away if you want to check it out.

The other big news is that not only is Santa Claus coming to town (note 'brilliant' tie in), but eight could be coming to your town too! We're on the road this summer with Goldenhorse and Brooke Fraser, kicking off in Auckland this coming Saturday. It's quite a different line up musically which I think will make for a really unique show and we're looking forward to showcasing some of the new tunes from the album. We haven't played a live show since May so don't be shy about sharing the love and coming out to see us.

Here's the run down of dates. Keep an eye on the live guide just in case there's any changes. Tickets are $20 and are available from Ticketek, or at the venues (some of the eight boys will also be performing with Brooke Fraser which will be very cool too).
Apologies to all in the South Island that we aren't able to come down on this run, but we are definitely planning to hit the mainland again early in the new year.
Thanks to all for your support and patience while we've had our heads down making this record. We're looking forward to being a lot more visible again next year with the release of the album and can't wait to get amongst it - let the hard yards begin . . .

Have yourselves a great Christmas, eat lots, be safe, and enjoy the summer.

slip, slop slap.

Paul, Alastair, Bruce, Hamish, and Chris – eight
November 2003
This Upd8: The Album, New Single and Video . . .
Kia Ora Y'all,
We thought it was about time you heard some of what we've spent the last five months making!
The first new single from the debut album "No Way To Decide" has gone to radio this week, and we've put an mp3 on the website for you to check out.
We just shot the new video last week in Christchurch with director Richard Bell (ta NZ on Air!) and it should be on your telly from the beginning of December. It's a part performance/part storyboard idea shot in black and white. We put our actor Richard through some serious trauma to get some of the shots we needed (we've put pictures from the video on the website which will show you why . .)
Recording the album has been a huge process for us, but we're almost finished and the songs are sounding wicked! Some of them were written just before we headed into the studio and have continued to grow as we've been able to experiment with new sounds and lines and it's really exciting to hear it all coming together. We have one more week of final mixing to go before Bruce heads to Oz to get it mastered and that'll be it, no more tootuing, five months worth all done . . . finally!!
We've decided not to try and squeeze the album out before Christmas as it's a consumer overload at this time of year, and we also want to make sure we have everything in place to do it well. We've been building a great relationship with a 'yet to be named' record company over the last 6 months and they're really excited and fully behind the release of the album which is fantastic. The official album release will be in February 2004.
The new single is a song we're really proud of and is a great one to crank up over the summer so hopefully it'll tide you over for the holidays. We could really use your help to get it out there, so have a listen online and if you like it, feel free to ring, text, email, put up posters, make t-shirts, bake a cake, and generally harass your favorite radio station to play it! (If you like, you could pretend that sending bulk emails to everyone in your address book is like, super cool . . .)
Here's a wee smorgasboard of contact details to get you started:
| | | | | | |
| --- | --- | --- | --- | --- | --- |
| | RING | FAX | EMAIL | TEXT | WEB |
| The Rock: | 0800 ROCK PHONE | 0800 ROCK FAX | | | |
| Channel Z: | 0508 342 584 | 09 373 2900 | | 3933 | |
| The Edge: | 0800 THE EDGE | 0800 FAX EDGE | | | |
| 91ZM: | 0800 DIALZM | 0800 00ZM FAX | | 9696 | |
We're very fortunate to have such a cool fanbase, thanks heaps for the emails over the last few months, it's been a real motivator for us making the album and we can't wait for you to hear it!
On the live show front, we're just waiting on final confirmation of a summer tour which should be through next week, and will hit you up soon with a bunch of dates where you can come and hang out. You can also keep an eye on the live guide.
and that's us for now.
Paul, Chris, Hamish, Bruce and Alastair - in no particular order - eight
August 2003
This update: The Album, Juice TV, L.A and more . . .
Hey Y'all,
Well we've passed the halfway point now in recording the eight album, and all is good! We pretty much took over the producers house for the first four weeks with amps in various room, leads running everywhere, and all of us recording the tracks together in the lounge room! Among all the sterility of getting gear working and finding the right sounds we've managed to get a great vibe in the house and the songs have come through with a real organic feel about them (of course we would say that though aye)
We're pretty stoked with the sound of things so far and can't wait to hear how it's going to sound in another six weeks! We've added some photos to the website for you to check out . . . . . As you'll notice Hamish and Al are looking decidedly 'shaggy' (showing that even facial hair grooming takes a back seat to the dedicated focus of the studio. . )
Meanwhile in the outside world, eight have been nominated in this year's Juice TV Awards under the Best Indie Video category for the single 'Shift'. The winner is decided by public votes so if you:
a) like the video and think we should win
b) were in the video (as that should count for a lot of votes)
c) haven't seen it but don't mind pretending it's really wicked/masterfully shot on such a limited budget
d) none of the above
then log on to http://www.juicetv.com/events/voting.html and vote for eight-shift in the Best Indie Video category. It's your democratic right to have your say . . . . . and you can win prizes, so don't be shy! (Voting closes on the 17th August - thats this Friday...)
In other news Bruce and Paul are off to Los Angeles for a week in September to catch up with the boys from Steriogram and scope out some future opportunities to share our music with the good folk of the United States. Keep your fingers crossed as they'll be landing on Sept 11th . . . . .
Also keep an eye out on TV2 for the latest Space 'In between shows filler' as it features us in the studio talking about the album and recording one of the newer tracks.
Coming Up: We'll be dropping a brand new single to radio in the next couple of months, theres some new T-shirts on the way, and we've started the ball rolling on an end of year summer tour as well. Keep an eye on the website for details and hang in there . . . the album is coming!
cheers as always for your support.
Paul, Al, Bruce, Chris, Hamish - eight
July 2003
KiaOra Y'all,
We've had a few weeks to catch our breath after a pretty busy Music Month in May. Cheers to everyone who came out to the tour shows, sent emails, brought T-shirts etc. The South Island was a whole lot of fun (oh the memories) so bags we do it all again soon . . .
Now, for the news we've been anxiously waiting for and can now happily report:
In the last week we have been approved for 'Phase Four' funding from NZ on Air, which means that we now have the green light to finallly start recording the album. Our application has been pending for a while now, so hopefully this explains our less than concrete answers to the "When's the album coming?" questions over the last while.
Thankfully, it's officially all go and we'll be head down, volume up in the studio over the next 10 weeks. We're recording in a character two story Villa in Central Auckland and are tracklaying all the instruments at the same time to help capture an organic 'live' feel for the album. It's been a long time coming for us so we're all buzzing and have even written some brand new songs since coming back from tour.
Keep an eye on the website for updates/photos from the studio as we'll let you know how it's all going. As always, feel free to share the love, drop us an email, bake a cake, it'all good! . . . and cheers again for the good vibes and support. It makes a huge difference recording this album knowing we're not the only one's waiting to hear it!
that's us for now, except to say a huge thanks to NZ on Air.
THANKS NZ ON AIR!

Paul, Alastair, Chris, Bruce, and Hamish - eight

May 2003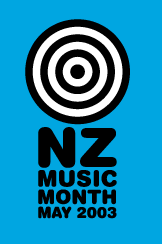 This Update: South Island Tour, RtR this Saturday, Juice TV, Coleman Sessions CD . . .
Hey Y'all,
Well we're packing our own breakfast for the discount flights and heading to the mainland this Friday, South Island here we come!!
15 days and 10 shows, we're all pretty excited and can't wait to get there. Alastair has been Op shopping especially and is looking forward to showing off his five dollar autumn selections. Check the live guide for all the gig details, and don't be shy to shout it from the rooftops and bring all your mates. One thing to note is that we have a change of venue for our all ages show in Timaru with WASH this Saturday. We'll be playing at 'The Community Centre' on Barnard St' instead of the Loaded Hog (R18 show on Friday is still @ The Loaded Hog). Big thanks up front too to everyone who's helping us out while we're down with gear, accom, transport, promo etc. Feel the love, we really appreciate the support.
Through the pre-recorded magic of television we are also joining Erika and Jason on RtR Countdown this Saturday at 6pm. This is a biggie for us as they're only featuring four local acts through NZ Music Month and they've picked us to be one of them (go the little independent battlers aye) We had a great time at the interview, and yes you get to watch us say "Hi we're eight and you can catch us on Coke RtR" so don't miss it (and you can win eight T-Shirts and CD's too)
Last week we performed with a number of bands at The Levis Live @ Galatos series for Juice TV. It was a fun time had by all, and the good thing is, you get to watch the whole live eight performance as it happened when they play it on Juice TV later this month. Not sure of the exact day and time so keep an eye out, but could be a good opportunity to visit that 'mate' who happens to have Sky . . . .
Also, The "Coleman Sessions" CD from Channel Z is out now and the live @ York St version of 'Shift' is on there so feel free to go and invest in some more local music and check it out.
Cheers to everyone who came out to see us on the North Island leg of the Tour, we had a whole lot of fun, met some great people and loved playing in front of people who have never seen eight before. Thanks too for the positive vibes via the emails, and as always don't be shy about getting in touch, it's all good.
that's us for now, peace and love . . .
Paul, Bruce, Alastair, Hamish and Chris - eight
1 May 2003
Hey Y'all,
May - NZ Music Month is upon us and we're looking forward to getting amongst it and no doubt enjoying the full spectrum of local talent that exists in our beautiful corner of the world.
eight kick off Music Month this week with the last three shows on the North Island leg of the Shift Tour.
On Tuesday May 6th we are performing for the Juice TV 'Levis Live @ Galatos' series in Auckland. It's open to the public and each band performance will be recorded live and featured as a half hour concert on Juice TV later in the month (and we all get free jeans which is handy).
We're also flipping coins to see who gets to hang with Pheobe Speirs on Channel Z and rank their favorite kiwi tunes of all time (I'm picking it'll be Alastair but we'll see)
And then theres the South Island Tour . . . . Finally we get to bring our music to the mainland! (to see the tour poster click here)
We're booked to fly on the 16th of May and have a 10 show tikitour booked including True Colours in Christchurch, before heading back up for the Auckland True Colours show on Saturday 31st. Getting down South on a limited budget has been a 'wee' challenge so we'd like to say a huge thanks to Pegasus Rentals, Christchurch Airport for hooking us up with some reliable transport. If you want a good deal on car hire out of ChCh, give Roger and his team a call on 0800 354 504 or check out www.christchurch@rentalcars.co.nz
Righto, heres the South Island Tour dates. Don't be shy about spreading the word, and hopefully we get the see the southside represented in full force!
For full gig details, check out the live guide at www.eight.co.nz
and there you have it. Keep an eye on the website for more updates as they come to hand. Happy NZ Music Month, and we'll see you out there . . .
Paul, Hamish, Chris, Bruce, and Alastair - in reverse alphabetical order - eight
April 2003
If you book it, they will come . . . .
Hey Y'all,
eight are a strange bunch; we've played in Germany, India, and Singapore, but we've never played the South Island (or a good half of the North for that matter!). Well, with the new single and video for 'Shift' out there and NZ Music Month on the way, we figured that was a good enough excuse to get amongst it, so we've decided to book some shows around our fair country and hit the road!
The North Island dates are in, starting in Whangamata this Easter Saturday (with The Feelers and Augustino), with a bunch more shows heading into the beginning of May. We'll be teaming up with the band Wash for a couple next week as they will be on their way down south.
The South Island is being booked now and we'll be heading down for a couple of weeks to coincide with The True Colours showcase in Christchurch on Friday 23rd of May.
We'll send out a full NZ Music Month calendar soon which will include all the confirmed May tour dates as well as live to Air performances on radio and other events for you to check out. For full details of a show near you, keep an eye on the live guide . . . . .
Thanks for the feedback on the new 'Shift' video, no complaints yet other then the odd dizzy spell/nausea, so we're pretty happy. If you haven't seen it yet, make sure you're sitting down and request it on your favorite show. Also, NZ Music Month is a great opportunity to push local artists on the radio, so don't be shy about hassling your favorite station to play the new single (or just more local content in general, it's all good!)
Thanks for the emails and support, it's what keeps a band like us going, and it looks like we'll finally be able to answer those South Island requests real soon . . . .

Paul, Hamish, Chris, Alastair and Bruce - in order of height - eight
February 2003
This update: New Video, eight Tshirts, Coke, and Gigs . . .
Hey Y'all,
The year is flying by already, what with the Big Day Out last month, the America's Cup, impending global war . . . . . she's all on!
And in the middle of it all, still trucking along, it's your favorite band, still holding out for that lucrative hair product endorsement to help fund their dreams of world music domination . . . . Or more realistically, still inching along the independent road to recognition, fuelled by the possibility of one day finishing that elusive debut album!
We're having a fun start to 2003, and as always, it's great to get your feedback, so cheers for all the positive responses from the Big Day Out, and for the new single 'Shift'. We've got some photos from the BDO on the website if you want to check them out.
The four track CD ('Shift') is ticking along nicely through the stores, but feel free to buy another six or so just for kicks! The Good news is we are shooting the new video in a couple of weeks (coming to a roundabout near you) so keep your eyes out for that from around the 7th March. This one will feature the band which is a novel approach for us, and even playing our instruments too so look out!
We have some eight T-shirts out now too if you're a fashion victim in need of some cred (all the cool kids are wearing them) You can buy them through Real Groovy in Auckland, at our shows, or email us and we can hook you up that way.
We also recorded a new anthem for Coke the other week (hence how we're able to make the Shift video - cheers) so listen out for the new eight flavoured commercial on your radio. We also played at the shooting of the new Coke TV Ad, featuring Nesian Mystic, complete with snowboard ramp at the beach crazy chilly bin beach volleyball water fight action . . . . which was heaps of fun.
And finally, we figured why not play a few gigs seeing as we're a band and all, and have proceeded to organise a bunch for the coming month, so check out the live guide for details as they'll keep getting updated as more get confirmed over the next couple of weeks.
And that'll do nicely for now. Keep plugging away at your favorite radio station if you want to hear 'Shift', go the Kiwis in the America's Cup (all of them!), and give thanks that we live in a country that's not about to charge off to war next week . . . . . . . peace on earth
Paul, Bruce, Alastair, Hamish, and Chris - in no particular order - eight
November 2002
Hey Y'all,
eight playing at the Big Day Out 2003 aye, get in there with your 'only independent act in the second round of announcements' action!! We're pretty happy about that for sure, particularly as we've been somewhat underground for the last few months working on the album. It's great timing for us as well, as we have a new single going to radio in December, to the stores in January, and we'll be releasing the full album in May of 2003 as well.
The new single is called Shift and will be part of a four track release which will be in stores nationwide in January, with our Big Day Out performance marking the official launch. This will be the first eight release to hit the shops since the demo album 'build' in 1999 (which has since sold out). We're pretty excited about that as we've had loads of requests for our music in the shops and via emails, and it'll be nice to finally put something out there again.
The C-Fu remix of Moments Gone has been getting a lot of airplay recently (thanks Channel Z) and that will feature as one of the tracks on the upcoming release as well.
We're coming to the end of our communal living stint at the 'eight house' and work on the album material is going well, with a couple of brand new songs to add to the mix. Thankfully, we haven't come to fatal blows over the dishes and who's in charge of the remote, although I think we'll probably all be glad when a certain someone has their own bathroom again (nuff said).
We'll be taking a break over Christmas before heading into the studio first thing next year to record. Still being an independent act has made it a long process for us (and for our fans too) but we're almost there, so cheers heaps to everybody who's kept us pushing forward with emails of support!
On that note . . . .
July/August 2002
This Update's a biggie: The New Single . . . Che Fu Remixes . . . & The Eight 'House'!

Hey Y'all,

After the wee flurry of NZ Music month in May, we've been a bit quiet on the gig front, but as you'll see, it's all been for good reasons, and there's a lot to fill you in on, so here goes . . .

Paul had a successful excursion playing drums with Che Fu in England, and on arriving home, shot off with Hamish on a two week jaunt around the North Island with Anika Moa (nice for some). After a five or six week break from playing, we put some serious work into getting our groove on again, and put the final touches on what will soon be the new single.

We're exploring the 'other side' of eight with this one, encapsulating the drum and bass/sound-scape elements of what we do, and we're looking forward to getting it out there. So far, aside from the limited release of Moments Gone with the 25th anniversary Rip it Up mag, our singles have only been released to radio, so this time round, we're making every effort to put a CD in the shops, so we'll keep you posted. We're set to record this month and will hopefully have it out there around Sept/October.

In other news, Che Fu has recently completed a hip-hop remix of 'Moments Gone' which sounds wicked (cheers brother!). So far it's aired on both The Edge and Channel Z networks, so feel free to request it if you want to check it out. To return the favour, we've also just finished a remix for Che of the song 'Top Floor' off his Navigator album, which was a nice wee challenge. The good news is, he likes it (yay!), so we'll let you know what happens with that as well.

You can check out a snippet of both the remixes on the website: C-Fu remix of 'Moments Gone' and eight remix of 'Top Floor'.

The Biggest news for us though is that we've just secured the eight 'house' (explanation to follow) and can finally get stuck into finishing the songs for the album!

We've been looking for a while now to embark on a big communal adventure, escape the distractions of the city, and get down to finishing the album songs, and we seem to have found the perfect place. While the location is a strictly guarded secret (that we keep telling everyone about), we can let you know that it's pretty freaking cool and we can't wait to move in on the 16th of August. Plenty of fresh country air, minutes from the beach, and fingers crossed we'll have Bruce's table tennis table to keep us on our toes.

At the end of it, we hope to come away with an album worth of songs that we're really stoked with, and from there we'll get into the studio and put it all together. And heck, how often do you get to take off for a few months with your mates and have a bunch of fun making music and playing table tennis! (the correct answer is - not often)

Once we're settled in, we'll post some photos on the site, and keep you in the loop with how we're getting on. You can keep in touch with us via email, and we'll still be doing some live shows so you can hear the progress for yourselves. We've had heaps of requests for an album, and it's great to know that there's people out there who are as keen to hear it as we are, so cheers heaps for the support!

For the latest gig info, keep an eye on the live guide

That's us for now, much love,
Paul, Bruce, Alastair, Hamish, and Chris - eight

May/June 2002
Hey Ya'll

Had enough of NZ music yet? (hope not cause every month's NZ music month round here mate!) Well May has up and left and taken another NZ music month with it, but didn't we have some fun aye! It's certainly been a busy few weeks, with the new single, new video, a few live shows, a bit on the telly (a few bits just quietly), a bit on the radio . . . . by all accounts, a nice well rounded effort from the whole team, top marks.

The Rock radio network have fully got behind the new single 'Moments Gone', and the video has so far aired on Space, RtR, and Juice TV, so if you want to see more of it, feel free to request away. Thanks to everyone who came out to support the last few shows, we were blown away by the turn outs and the positive response, so cheers heaps!

What next. Paul is off to London with Che Fu to woo the English punters, and then Hamish and Paul are out for a couple of weeks touring with Anika Moa, so we have a bit of time on our hands. We're currently recording demos for the album, and are planning to release another single around August before getting stuck into a few months of pre production for the album recording.

We get heaps of requests for cd's so although the album is still a while away yet, we're definately going to try and release the next single in the shops, with some b-sides and remixes.

Lately we've been working on some new material and are still keen to keep the live shows going so when the boys get back from their 'other' band excursions, we'll be into it again, so keep an eye on the live guide for any upcoming shows.

cheers again for all the emails, keep sharing the love.

p.s: Bruce and Alistair share top billing for extra special band member participation this month: Bruce for a stunning performance and 8 hours in a wet singlet for the new video, and Alastair for his 'revealing' performance as the naked busted guy, especially in the take where he totally slipped over but somehow managed to retain full 'pillow' coverage, well done buddy.
May 2002
Hey Y'all,
Firstly, thanks heaps for all the positive feedback from the Incubus/Creed show at Western Springs. We had an awesome time and it was cool to play to a crowd that had mostly never heard of us (and we got to see Incubus for free). Theres some photos on the site for you to have a look at.
May is NZ music month and we're getting amongst it with a veritable smorgasboard of eight flavoured goodies. Check out our music month calendar on the live guide, and yes, we are venturing outside of Auckland this time (get in there Raglan!). We've got a couple of TV performances, Space and Good Morning, and are kicking things off with a single release show at The Odeon Lounge in Auckland on Wednesday May 8th. Have had quite a few emails from the deep south (much appreciated) and yes, we are working on getting down there sometime soon, perhaps over winter . . . .
The video is on the way for the new single 'Moments Gone', and judging by our casting call last weekend, looks like we're going to have a lot of fun making it! If you didn't know already, Moments Gone is on the NZ on Air 'Heatseekers' Compilation which is available free with the latest Rip it Up. Many thanks to The Rock radio network for getting behind the new single before it was even released!
In regards to airplay of the single and the video, a lot depends on requests and audience feedback as we're still an independent act, so if you're keen to help us get out there, feel free to ring up and request away. You can get contact details from the new single section of the site.
Once again, appreciate your thoughts, get in touch anytime,
that'll do nicely.

March 2002
We'd definately planned on trying to increase our audience a wee bit this year, but this is just being silly. We are all pretty stoked to be opening for Incubus and Creed at Western Springs on Saturday March 23rd (get in there with your international support!)
It's good timing for us, with the new single 'Moments Gone' coming out over the next few weeks. Once again, Malcolm Welsford has done an awesome job of making the song sound larger than life, and we're looking forward to seeing how it goes out there all on it's own in the big scary world of radio. We're also playing with Goodshirt at The Classic on Easter Thursday, as well as making the video for the next single over the coming weeks too, so we're not short of things to do.
Thanks to everyone for the positive feedback to our first single 'Whale'. We've had heaps of people asking where they can get a copy so, for the record: Whale was only released to radio and unfortunately you can't buy it in the shops, yet. As we're yet to secure lucrative endorsements from a leading hair product manufacturer (or simply large amounts of money and promotional support from an international record label), we're on our own, and so have to make do with pretending it's cool, and real 'underground' to not have anything in the shops. Hopefully we'll be able to put something out soon . . . . .
Best bet at this stage is to request it on the telly, and sit poised with finger on record button - speaking of which (note smooth tie in), If you like what you hear of the new single, feel free, or even strangely compelled to get behind it and request it on the radio. The video will be finished for the beginning of April too, so keep an eye out.
that'll do nicely,
eight

February 2002
Hey y'all,
Hmmm, it's back to work already?!
After a pretty quiet summer gig wise (Paul has been off gallivanting with Che Fu and The Krates), we kicked off 2002 at the Soundsplash Eco Reggae Fest in Raglan. An 8:30 in the morning slot is a fairly humbling way to start, but we had fun experimenting with some of our more 'soundscape' drum n bass style tunes, and it was a great excuse for a wee road trip.
We also played at the Rock radio's 'big day after' (hanging with the Mad butcher and hamming up our best Creed impersonation, had a wicked time!), and Bruce and Paul spent an hour with John on Channel Z breakfast in late Jan as well.
It's been cool to hear our first single on the airwaves a bit, and the video for whale has been fairly well thrashed through Juice TV and the like, so cheers heaps for all your support and requests, and for all the positive feedback, you make our mamas so proud. . . . .
We're currently in the studio finishing our second single, which will be going to radio in early March by the looks. Live wise, we're keen to get amongst it again, and once we nail the next single we'll be into it, so keep an eye on the live guide or an ear on the radio for any future shows . . . won't be long.
Until then, peace and love,
eight